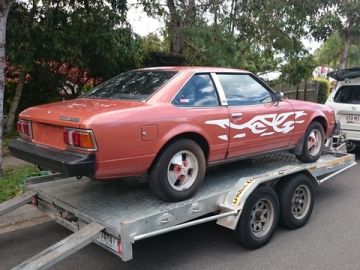 Our next project is underway - we are building an RA40 Celica race car for historic touring car events and racing.
This humble looking RA40 complete with 'street mods' is going to be transformed over the next couple of years into something special.
Plans for the build include a race-spec 18RG twin cam engine, similar to what was used by the Williamson Celica's in the Australian Touring Car Championship ('ATCC') of the early 1980's. These cars were often referred to as the 'camera in the car' Celicas that helped Channel 7 (Australia) develop the in-car camera technology that got taken around the world.
Also similar to the Williamson Celica's a body kit will be applied that was compliant with the Group C rulings of the era and allows for an increased tyre with and diameter. When it comes to wheels there are a lot of choices that are period correct, but our current preferred is the BBS mesh style used in the era. A disc brake rear-end is highly likley with a Watts link arrangement. Up front adjustable coil overs will be made to order and installed.
Keep watching we plan to update the pics here as the build takes shape.